Current Bible Study
The Book of Esther
"Be Who God Created!"
A six-week podcast series
Join us as we explore the book of Esther in the Old Testament. Her story is a call to courage and trust in God during a difficult time in Israel's history. The only book in the Bible in which God is never mentioned, yet His presence and power are vividly manifested as He lifts a young, unsure Jewish girl from minority refugee to a Queen, to a savior of the Jewish people.
The story of Esther is still remembered today at the Jewish festival of Purim. It is an exciting story of our sovereign God who uses imperfect men and women to accomplish His perfect will.
You will find life-giving principles that, when applied to your own life, will enable you to live abundantly, trusting and surrendering to God as He leads us, His children, to victory.
The book of Esther is for anyone who wants to know God, who seeks wisdom and comfort in His Word and has a desire to live differently because of Him. You, like Esther, were created for such a time as this, to "Be Who God Created!" and help those who are lost in the world today, find their way back to their true home in heaven.
Register now to get access to your downloadable copy of "Be Who God Created!" Bible Study Workbook. Check out our FAQ page should you have any questions.
Directed & Produced by
KERI Z. ALLEN

Produced in partnership with AM 1160 The Quest – Your Atlanta Catholic Radio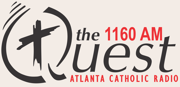 To Register: Click Here
Or Email: info@proclaimmyword.org
Or Call: 404-281-5741
To access each podcast visit: TheQuestAtlanta.com or The Quest Atlanta app and go to Programs.
The study is being offered at no cost but free-will offerings are appreciated.
Past Bible Studies
2021
Esther
2020
Letters of John 1, 2 & 3
2019
Judith
Colossians & Philemon
2018
Philippians
Nehemiah
Matthew 2
2017
Matthew 1
Galatians
Joel
2016
Romans
Ecclesiastes
Jonah
2015
Tobit
James
Mark
2014
Ephesians
Ruth