Current Bible Study
October 11, 2022

Letter To The Ephesians
"God's Plan To Protect You!"
+ + +
God chose to love you and save you. His plan of salvation from the beginning of time was meant to protect you until you could return to Him. In the Letter to the Ephesians Paul wants us to know that God is always present to us and without His Son, Jesus Christ in our lives and in our hearts we have nothing, no matter who we are or what we have. Our true identity is in Jesus Christ, we belong to Him. He bought and paid for us with His body & blood on the Cross. This letter is intended to encourage and strengthen us in our faith and give us the spiritual weapons we need to resist evil in the world today. Although we will encounter difficult times and spiritual battles from the enemy trying to steal our faith and our souls, Paul reminds us to trust in God and know that He is in control and He will never abandon us. As He says in Jeremiah 30:11; "For I am with you to save you." Join us for the study on Ephesians that will lift your spirit and challenge you to live God's plan to protect and save you.
+ + +
Directed & Produced by
KERI Z. ALLEN

Produced in partnership with AM 1160 The Quest – Your Atlanta Catholic Radio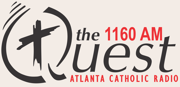 To Register: Click Here
Or Email: info@proclaimmyword.org
Or Call: 404-281-5741
To access each podcast visit: TheQuestAtlanta.com or The Quest Atlanta app and go to Programs.
The study is being offered at no cost but free-will offerings are appreciated.